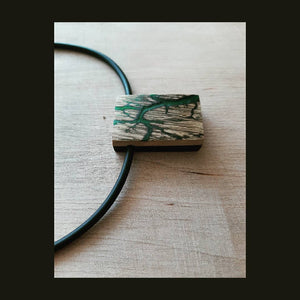 Neck pendant - Wood stories by PAKA BINTI
Regular price
$28.00
$28.00
Neck pendant -  Wood stories by PAKA BINTI
This black neck pendant was created using epoxy resin and dying it with potent inks & nature wood details.

This is a completely unique, one-of-a-kind product that will become an eye-catching component of Your accessories.

Epoxy resin is a heavy-duty waterproof material similar aesthetics to glass, however, is a lot stronger.
Natural cotton impregnated twine with silver tips.
Intertwined in various shades of blue with special black oak shavings. Everyone can be delighted.

Size: ~ 3cm 
Me and Him. Our leisure experiments with epoxy resin, wood, cement, shades have grown into an obsession. Slow Meditation, Technical Skills, Close Look, Fantasy
Where do you ship to?
We ship to almost every country in the world.
What does shipping cost?
Just add the items to your cart and select your country from the list to get a shipping price. AT THE MOMENT SHIPPING IS FREE.
How long does shipping take? What shipping methods do you use?
International Shipping (varies per country) 20-35 business days (customs processing times vary)
The money are refunded if the order does nor come in 60 business days, but we are flamingo lucky it really rearly happens! 
Will I be charged additional customs fees or import taxes?
Most likely. Every country has different regulations on how they handle imported goods. We recommended you to Google & get an estimate of what you will be charged  or not charged when the package arrives. We do not pre-pay or cover any import fees.
Can I track my order?
Once your order has been shipped, you will receive an email with tracking link. Please allow 24hrs for the link to activate. Once the packages leaves, the tracking links may not update but the package is still on its way.
---
More from this collection